My Senior Master Technician that installed my new FLYWHEEL, CLUTCH, & TRANSMISSION did a great job. My car was in a bay that was next to a roll up door that had a window in it from the outside, so I was able to watch the entire removal and installation. With a escort I was allowed in the service bay a few times to look things over.

My Tech. did the entire job himself except for lifting the transmission and adjusting the exhaust. Now I know why they call him a Master. He has worked there for 12 years. A true professional.

Here are a few tips that I have picked up on.
1.) The front of the motor has to be jacked up to get the proper angle to remove and install the tranny. If you have a carbon Fibre intake, it will need to come off so you don't damage it, or remove the tower brace.

2.) Make sure you have the right flywheel before you start the job. Mine was for a GT and I had to get a GT500 one overnighter.

3.) After installation, the clutch hydrolics need to be blead off. My tech used a suction machine to get the air out.

4.) The Teflon lube gets applied to both Clutch splines and Tranny input shaft.

REMOVAL of the Transmission
It took 1 hour and 45 minutes for a master tech to get the tranny out. I watched him do it. These are the steps I watched.

1. Remove shifter.
2. Remove my JLT Carbon fibre tube & filter so it would not get damaged during jacking of the motor.
3. Remove front X pipe and Cat's. Temp support rear exhaust and sensor wiring.
4. Remove drive shaft.
5. Remove lower front suspension A arm steel tube brace.
6. Remove tranny X member.
7. Remove tranny.
8. Remove flywheel.

INSTALLATION of the new flywheel, clutch and transmission.
The installation of the new parts took 1 hour and 50 minutes. Then you will be ready for a test drive. These are the steps I watched.

1.) Install Flywheel.
2.) Install Clutch.
3.) Apply Teflon lube to splines
4.) Install Transmission and shifter.
5.) Install Transmission X support.
6.) install lower front A arm tube brace.
7.) Install Driveline.
8.) Install Front Cats and X pipe exhaust.
9.) Adjust rear exhaust tips.
10.) Hook up electrical sensors to transmission and Cats.
11.) Install stick shift handle and boot.
12.) Bleed air out of clutch hydrolics.
13.) Test Drive


By the time you check the car in and then the work is done and you do a test drive and then do the paperwork, it turns out to be a 6 hour job. I have some videos and Pic's coming up that show some of the work.

Let me tell you that the car shifts like a different car.
No hissing when the clutch is in nuetral and pushed in to the floor. No bumping of the syncros. Smooth shifting and down shifting. Now when I push the clutch in and put it in gear…it goes in right away. I can even down shift into 1st gear at a slow roll from 2nd. It is sweet. To describe the shifting is hard to do in words. It just goes into gear. You feel the click in the gearshift, you do not hear it. Not realy a click, but it feels like the syncros are open and ready to accept the gear. A true pleasure. Yes…a big difference. I also noticed that 4th 5th and 6th are smoother now too.
Edit: Torque Spec for new clutch bolts added and Parts Pic.
torque the clutch bolts to 74 in-lb in a star pattern and then double click to 80 in-lb and NO 90* TURN!!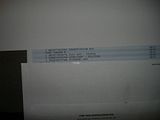 Edit: Release bearing was defective. Tranny had to come back out. See thread attached:
http://forum.teamshe...p...c=25899&hl=
2nd edit: 2nd Release bearing was whining untill the air was blead.
http://forum.teamshe...p...c=27400&hl=
3rd edit: I had the newly designed flywheel and another clutch installed per the TSB listed in this thread:
http://www.teamshelb...p...ic=32271
Edited by Grabber, 19 August 2008 - 06:45 PM.