1badsho, on Aug 9 2008, 08:58 AM, said:
Grabber


great pictures and as always THANK YOU !!! ..... What i was most impressed with was your rear end ... ( NOT YOUR *SS GRABBER but THE CARS REAR END ! )

I recall when u re painted it and man it really stands out ... great job !
Thanks Don.
I like to keep the under side of my car looking good. I put in up on my ramps last night to inspect it and do a wipedown. Today I will Change my oil while shes up on the ramps.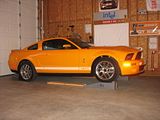 Edited by Grabber, 09 August 2008 - 08:29 AM.