Ford GT wins first round of the GT1 Championship in Dubai
Started by
REAL ONE
,
Apr 19 2010 06:07 PM
#1
OFFLINE
Posted 19 April 2010 - 06:07 PM
The Ford GT wins the first round in Dubai.
!!!!
On to Siiverstone.
Shelby Continuation Series 427, CSX 4206 (Raven Black. Aluminum bodied. Power: 1965 427 SO with dual quads)
'05 Mark IV Red Ford GT #1414
'09 Torch Red GT500KR
2012 Boss 302 CO,
'07 White Shelby GT (son's really)
'13 F150 Raptor Crew Cab metallic black with bead locks and all the bells and whistles
 U.S. Army Rangers. Mess with the best, die like the rest. Want 72 virgins? They'll hook you up.
---
#2
OFFLINE
Posted 20 April 2010 - 04:57 PM
Go Ford! I wish I could watch some of these races on TV... any races from Europe play on SPEED between 1am and 4am and they love blackouts for Canada... don't get the cable companies
I need to get satellite!
2006 Shelby CS8 - Turn 1
Ottawa, Canada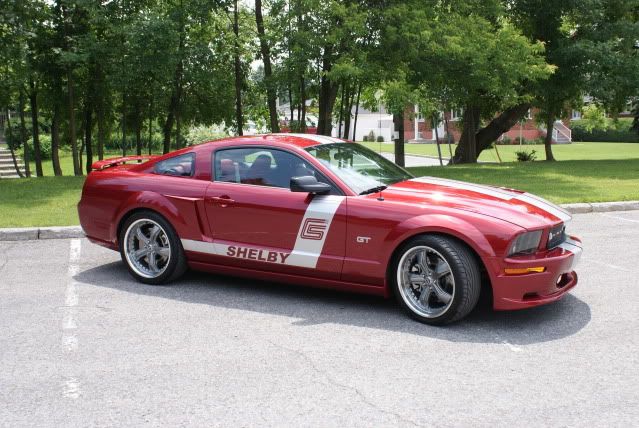 ---
#3
OFFLINE
Posted 23 April 2010 - 05:55 AM
Patrick
Proud organizer of the 2012 Shelby Run Europe
2500 miles, 10 days, 8 countries
07 Shelby GT500, Grabber Orange #3383 of 8152 coupes #127 of 282 Grabber coupes #? of 168 Grabber/White coupes
08 Shelby Terlingua, CSM08TRT0301, first Tasca Terlingua, converted at 1467 miles, delivered April 17, 2009 at the 45th Mustang Anniversary, Barber Motorsports Park and given to my wife for her birthday, signed by Carroll Shelby
09 BMW 530i touring, Platinbronze metallic
13 Ducati 1199 Panigale R, 204hp and 165kg
Current mods to car:
-Shelby autographed dash plaque
-Shelby gauge pod
-Shelby KR brake duct bezels
-Shelby Extreme Baer brakes front
-Shelby Extreme Baer brakes rear
-Ford Racing brake cooling kit
-Ford GT start button
-CDC directional mirrors
-CDC sequential taillights
-CDC dead pedal
-CDC hood struts
-Shelby KR mufflers
-Steeda Tri-Ax shifter modified with Hurst shifter stick and Shelby shifter knob
-Shelby billet engine caps
-Ground Control Koni Sport/Eibach coilover kit
-Steeda swaybars front and rear with billet brackets
-J&M lower control arms billet aluminum
-J&M adjustable upper control arm black
-Griggs racing Watts link
-MM 6 point rollcage in grabber orange
-Shelby extreme duty radiator
-Shelby extreme duty dual fans heat exchanger
-Shelby extreme duty anodized black coolant reservoir tanks
-Shelby transmission cooler scoop
-Shelby KR rear axle overflow reservoir
-Ford Racing performance intercooler
-Whipple 2.9L with 3.00" pulley
-Ford Racing Dual 65mm Cobra Jet Throttle Body
-JLT 127mm Carbon Fiber Intake
-72lb Fuel Injectors
-Fore Innovations fuel rails
-Kenne Bell dual Boost-a-Pump
-Reische Performance 170deg Thermostat
-Dynatech 1-7/8" longtube headers Jet-Hot coated
-L&M NSR camshafts
-2013 Shelby GT500 black/white leather Recaro's
-Ford Racing X-Brace in grabber orange and rear seat delete kit
-Forgestar CF10 275/35/20 and 305/30/20 Michelin Pilot Supersports
---
---
0 user(s) are reading this topic
0 members, 0 guests, 0 anonymous users