2
2006 & 2007 GT-H Build, ask questions
Started by
H0050
,
Jan 20 2012 09:35 PM
#81
OFFLINE
Posted 16 February 2012 - 06:30 AM
steve, you have any pics of the 07 build Hertz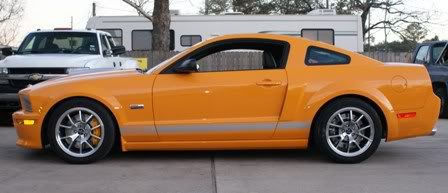 My OTHER TOYS:

2012 BOSS 302 Kona Blue #2995- Built 12/12/11
1971 Mercedes Benz 280SL (Pagoda)
08SGT0056 - SGT-C - #SOLD#

07H459 - HERTZ - #SOLD#
---
#82
OFFLINE
Posted 18 February 2012 - 04:41 PM
shelbymotorsports, on 15 February 2012 - 02:02 PM, said:
Attached is a pic of the GTH production area that used the same general set-up as the Series 1 cars. I'm counting four lifts at the time this pic was taken.

I tried checking Oasis to see how many lifts were in place for the GTH program but its only showing me current lift status of 15 lifts. It is the difference between these 4 lifts and the larger 15 lift production area that I was referring to when I posted that the Hertz money was desperately needed by SAI.

The purchase of these additional lifts required a new layout for the production area which I'm guessing AJ you had a hand in laying out for maximum production?

Steve

Steve,
On your picture you are missing lifts #5 and #6 on the left. When we switched to the SGT we turned the lifts 90 degrees and added another 9 lifts. We have also moved 2 lifts to the back corner (would be the right side of your picture) and the 07 GT-Hs were mostly built on those 2 lifts. I had both hands elbows and the rest of my entire body in laying out the plant.... Actually I'm pretty proud of how well it turned out...
AJ
Director of Production at Shelby American '06-'08
'07 Shelby Terlingua Mustang Concept CSM# 07TRT0001C (2007 SEMA Show Car) - SOLD!
---
---
0 user(s) are reading this topic
0 members, 0 guests, 0 anonymous users